Our Journey
The secret of getting ahead is getting started ~ Mark Twain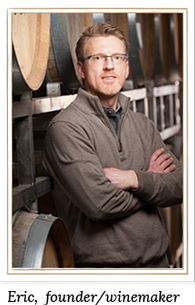 A defining moment came in January 2008, while traveling through France, on an annual pilgrimage with my employer. At the time, we were visiting and tasting new releases, for the wineries that we represented. More specifically, it was while listening to Messrs. Claude Dugat and neighboring vigneron Christian Serafin. These two heralded Gevrey-Chambertin producers, for whom I have immense respect and admiration, talked candidly about the challenges each faced, with the newly released 2006 vintage.
On the heels of the super-hyped 2005's, one might have expected a more somber tone, though it was not to be. Instead, each spoke with a sincere, quiet confidence instilled, from knowing they took the lumps Mother Nature had given to them. They were able to produce beautiful, distinct wines, nonetheless. When asked "how," neither could provide a definitive answer. Some would argue about the depth of experience each has had. Others might suggest it to be the strength of their terroir, in which they work–certainly each has validity.
What could not be argued was that neither relied on the latest/greatest technology, to do the work for them, as both cellars are very modest. My hard-held belief in what separates them–and all great makers of anything–is the extraordinary level of integrity maintained in their craft. Another explanation might be as my old coach used to exclaim: "shortcuts are for woosies!" Regardless, it is from this same form that the foundation of Aberrant Cellars has been poured.
For over 15 years, I had the distinct privilege of serving, selling, and tasting many of the world's most revered wines. They came from the staunch traditionalists of Europe, to the ultra-modern, edged producers of the new world- and everything in between. While the memories are cherished (even those I could never remember!), and the experiences gained throughout those years were invaluable, I knew it was time to start a new chapter in my wine-life.
After a number of years, spent in the hunt for the right time and place, it had finally arrived. The natural beauty of Oregon's Willamette Valley, combined with having witnessed, first-hand, the potential to craft world-class Pinot Noir, was the clincher. The itch was finally going to be scratched!
In mid-2008, after leaving behind my position as regional manager for Robert Kacher Selections, fate (or dumb-luck) smiled down on me. Two small, quality wineries needed a cellar hand, to work through the vintage with them. The wineries were Le Cadeau and Carabella vineyards. Though unbeknownst at the start, I could not have asked for a better scenario, as each used distinctly different methods in their winemaking. And, I was able to see and taste how those diverse practices affected the resulting wines.
After working 12-hour days, for 42 days straight, the term "crash-course" became an understatement. Although exhausted, I could not have felt more ecstatic, knowing my first vintage was successfully notched into my belt.

As the 2009 vintage came on fast and furiously, fueled by passion, inspiration, and perspiration, Aberrant Cellars was born. Born out of the pursuit of living up to the personal expectations, which were set by all of those great vignerons before me, their attributes have been instilled into my methodology. They were born with bridle in hand, to attempt at harnessing the beauty and majesty of Pinot Noir; born with the confidence to zig when the majority zag, born with the humility and deep-seated appreciation that this wine will be shared with those who are most important to you- So, it better damn-well be good.
Enjoy The Ride!